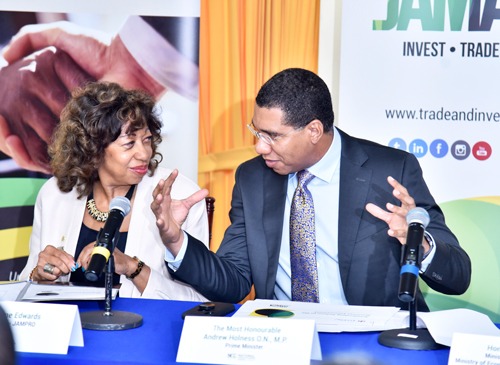 The Most Honourable Prime Minister, Andrew Holness ON, MP (right) speaks to JAMPRO President, Diane Edwards at the National Competitiveness Council (NCC's) annual general meeting.
President of JAMPRO, Diane Edwards, has said that Jamaica must increase the implementation pace of business reforms to improve Jamaica's ease of doing business. The President made the remarks during a presentation at the National Competitiveness Council's annual meeting that was held at the Office of the Prime Minister on November 15, 2018.
Ms. Edwards said that while Jamaica was on a positive trajectory, and is one of the highest ranked countries in Latin America and the Caribbean in the World Bank's Doing Business Report (DBR), reforms must be implemented faster to ensure that Jamaica continues to rise and become one of the top 10 nations globally on the DBR.
The Most Honourable Prime Minister, Andrew Holness ON, MP agreed with Ms. Edwards, noting that the government was focused on executing reforms to create the environment for more business to take place. He charged those in attendance to support the Top 10 DBR initiative by implementing the necessary reforms that will make Jamaica a competitive business location globally.
Jamaica's performance on the DBR
Ms. Edwards noted that in the latest DBR report, Jamaica was ranked 75th of 190 countries. While Jamaica increased its score on the ranking, this represented a 5-point slide downwards from Jamaica's previous rank of 70th in the 2018 DBR.
The country's most improved indicator was that of Dealing with Construction Permits, which moved 22 points upwards as a result of the passing of the National Building Act in March 2018. Jamaica has also earned the 12th spot in Getting Credit, while slipping marginally to 6th in the Starting a Business indicator.
In contrast, Jamaica will have to focus on improving its Getting Electricity indicator, as this indicator had the greatest decline by 24 points. Other areas for attention include Registering Property (131st), Trading Across Borders (134th) and Protecting Minority Investors (89th).
To reverse the trend for these indicators, JAMPRO's President revealed that the Agency engaged a World Bank/IFC Global Regulatory Team to assess which reforms are needed in the country. From this exercise, 69 reforms were identified and presented to Cabinet in July 2018, and there are currently a number of major reforms in progress that she believes will positively influence Jamaica's ranking in the next DBR report.
To view Ms. Edwards' presentation outlining the targeted business reforms to be implemented, click here.
Source: JAMPRO
Published Date: November 23rd, 2018