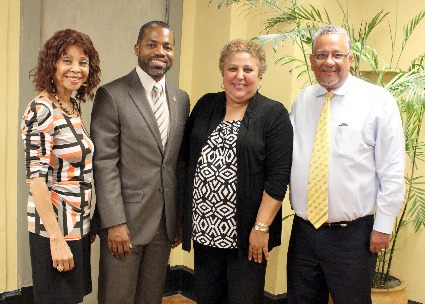 Left to right – Marie Gill – Entrepreneur and President of JAUSACC; Franz Hall, Jamaica's Consul General; Catherine Malcolm, Entrepreneur and JAUSACC Board Member; and Joe Rhoden, Entrepreneur and JAUSACC Board Member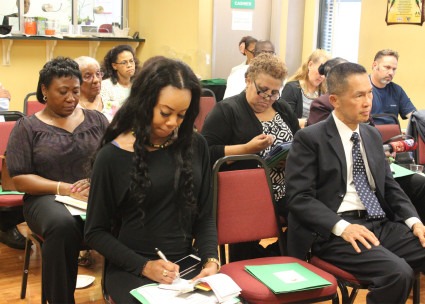 A section of the June 4th audience listened to JAMPRO via Skype
MIAMI – The Jamaica USA Chamber of Commerce (JAUSACC) and the Consulate of Jamaica held a joint forum on June 4th to inform and encourage Chamber and Diaspora members to participate in trade and investment in Jamaica. As a prelude to the Jamaican Diaspora Conference to be held in Montego Bay, Jamaica, June 13-19, the forum offered information on what the Diaspora Conference will showcase, and the technical assistance that the Jamaica USA Chamber can provide to help businesses prepare their post-conference trade and investment proposals.
"Jamaica has made great strides in preparing the infrastructure to accommodate new investments, and we are here to help support the Jamaica USA Chamber and JAMPRO in engaging the Diaspora community to take part in Jamaica's trade and investment opportunities, a highpoint of the 6th Biennial Diaspora Conference," said Franz Hall, Jamaica's Consul General who hosted the meeting at the Consulate. He explained some of the key activities that will take place at the Diaspora Conference, including the new "Diaspora Day of Service" on June 19thwhen social service projects from across the Diaspora, will engage in global support for social entrepreneurship and projects to help address social and community needs on the island.
JAMPRO's Vice President, Claude Duncan who joined the meeting via Skype, fielded questions from the audience and explained that Jamaica's global position has shown disciplined improvements. These include recent designations as the third best country for trade and investment, by Forbes Magazine, and having moved up significantly on the S&P (Standard & Poors) trajectory as a country with sound management. He explained that the Diaspora Conference will have a dual business and social engagement focus, with plenary sessions on trade and Investment, and opportunities for specific B2B connections. Trade and investment opportunities abound in industries such as Tourism, Agro Processing, Healthcare, Recycling, Education, the Creative Sectors, Energy, Real Estate, and the Global Logistics Hub. He emphasized that Jamaica has a great need for new hotels.
Responding to the Chamber's questions regarding the process to accommodate Diaspora members with smaller investment capital, or with the need for participation in Jamaica's contract procurement process, Duncan explained that the government understands that while everyone may not be an entrepreneur, they may have funds to invest. To support those individuals with intent to invest on a smaller scale, or to be part of the bidding process on various contracts, Duncan expressed that working through the Jamaica USA Chamber, JAMPRO will help to facilitate those persons to partner with local investment houses in Jamaica, and help them navigate the various "Acts" that govern developments such as the Hotels Incentives Act, Motion Picture Industry Encouragement Act, and the Factory Construction Law. JAMPRO consultants will be available at the conference to address questions and discuss individual interests. JAUSACC will also be an exhibitor and technical assistance advisor.
JAUSACC's president, Marie Gill, announced that the Chamber has partnered with the U.S. Department of Commerce through its Florida MBDA Business Center, to provide technical assistance to assist Chamber and Diaspora members to participate in Jamaica's trade and investment boom. Services will have a three-pronged focus: 1) – Access to Capital to help identify and obtain various forms of financing; 2) – Access to Markets to help identify market opportunities and teaming partners in Jamaica and around the globe, as well as to navigate and overcome potential trade barriers; and 3) – Access to Contracts to source and provide pre-conference help on the Request for Proposal (RFP) processes, identify and help create access to developers on the ground in Jamaica, and provide hands-on help to prepare and present comprehensive bid proposals.
Gill explained that the Chamber's partnership with JAMPRO by way of a Memorandum of Understanding (MOU), is designed to help facilitate trade and investment between Jamaica and the U.S. She explained that following recent meetings between the Chamber's Board and Minister Arnaldo Brown, of Jamaica's Foreign Affairs and Foreign Trade Ministry, the Consulate, and JAMPRO, "the Chamber's MOU with JAMPRO has been kicked into high gear in order to bring about tangible results." "Members of the JAUSACC board, and key resource partners are on high alert to assist Diaspora members to identify, prepare and submit proposals, and to be fully engaged in the exciting and potentially lucrative opportunities for trade and investment in Jamaica," she said.
For information on technical assistance, and how you may be positioned to participate in Jamaica's trade and investment, contact the Jamaica USA Chamber at 866.577.3236 or 305.573.3235 or emailmarie@jamaicausachamber.org
Source: http://sflcn.com/jamaica-usa-chamber-jamaican-consulate-and-jampro-team-up-to-provide-trade-investment-support-to-jamaican-diaspora/
Published Date: June 9th, 2015