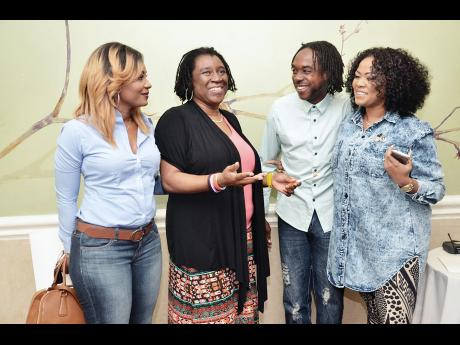 Carole Beckford, film commissioner, JAMPRO (second left); shares a joke with (from left) Belinda Williams, manager, group corporate communications, brand and philanthropy at NCB; Donald 'Iceman' Anderson, actor and Debbie Bissoon, brand manager of the Bob Marley Group of Companies at the Jamaica Film Festival's Business Breakfast recently.
Jamaica Promotions Corporation (JAMPRO) has revealed the theme surrounding this year's staging of the annual Jamaica Film Festival. Titled 'Where Art Meets Business', this year's theme is aimed at creating new ways to extend Brand Jamaica's reach in the international film market.
According to a press release sent to The Gleaner, the film festival is set to serve as a business forum for Jamaican film-makers, writers and producers. It will aim to show industry insiders how to market their projects as a means to create wealth for members of the local film community and the industry as a whole. It is hoped that the festival will further promote Jamaica as a film-producing country and to foster the creation of Jamaican content with Jamaican casts and production teams. The festival also hopes to tap into the growth of technology to help promote film as a tool for nation building.
JAMPRO also revealed some of their other plans for the duration of the festival, including a session geared at establishing the connection between film and music. Recognising that music and film in Jamaica are inextricably linked, JAMPRO thought it important to partner with Tuff Gong International for this year's festival staging, and that partnership will show that music and film in Jamaica go hand in hand. They also hope to guide potential film-makers to bring about an understanding of the rules governing the use of music in film.
Marketing Jamaican Content
Over the years, the Jamaica Film Festival has helped to assist JAMPRO with marketing Jamaican content in international markets, as well as develop local talent through workshops and other sessions. The Jamaica Film Festival aims to create these opportunities by, first, providing an avenue for local film-makers to showcase their work in their own cultural space. To execute the film festival, JAMPRO has recruited Paula Madison, Canadian High Commissioner Robert Ready, Horace Madison, Tonya Lee Williams and other international film and media heavyweights, to form the body that will manage various aspects of the festival and provide the needed support for the artists.
The film festival will run from July 7 – 11.
Source: http://jamaica-gleaner.com/article/entertainment/20150603/jamaica-film-festival-merges-art-business
Published Date: June 3rd, 2015