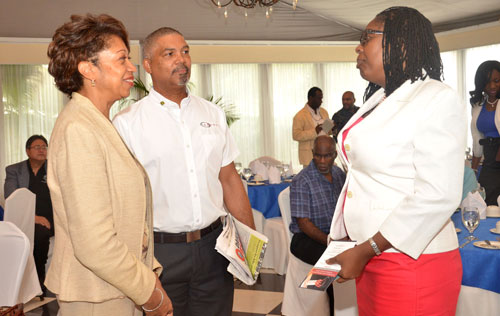 Her Worship

 the 

Mayor

 of 

Kingston

, 

Senator Councillor Angela Brown Burke 

(right) greets Diane Edwards, President of JAMPRO (left) and Michael McMorris, CEO of KRONOS Investment and Development (centre) at JAMPRO's Consultation with its Business Facilitation Partners. The session was held on Friday, May 22, at the Terra Nova Hotel in Kingston. 
The Consultation hosted heads and other representatives of government agencies to discuss matters related to the facilitation of investment projects. The sessions also explored initiatives that could increase the ease of doing business. McMorriss, who has worked in the private and public sector, did a presentation to discuss the impact of the approval process for investors and the importance of removing the barriers to business.
Source: JAMPRO
Published Date: May 28th, 2015