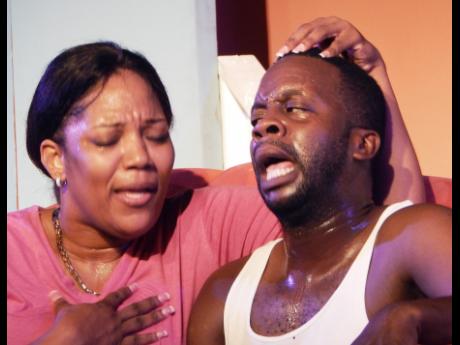 Christopher Daley (right) and Dahlia Harri in Ol Fyah Stick.
Even before the start of The Jamaica Film Festival from July 7-11 in Kingston, new Jamaican screenplays and contemporary writers, directors and producers – the 'content creators' – are getting international exposure.
Jampro's Film Commissioner Carole Beckford says the it has been coming in a number of ways. One is through a visit that she and other interested parties made to Los Angeles, California, in the United States, between March 10 and 16.
"We met with some of the best movie producers in the business in the black community of the city and we found out that Jamaica is indeed a location they are interested in – and not just for filming. They want to work with us," Beckford told me recently.
She pointed out that this is quite a change. "Jamaica has been a backdrop to Hollywood for so long. It was deemed only a location for filming," Beckford explained. Now, producers are discovering the island has both technical film-making expertise and competent content creators.
In Beckford's words, "the film festival aims to show that the content producers are just as competitive as their technical peers."
A video conveying what the film festival hopes to achieve was screened in Los Angeles, and a trailer for the Jamaican films now being made for the film festival will be to shown at the Penn Relays between April 23 and 25. The trailer will piggyback on the tremendous athletic presence that Jamaica has traditionally had at the relays.
Following JAMPRO's call for scripts late last year, 54 entries were received. From that, 15, submitted by 13 writer-directors, were chosen for production. From February 9-13, the directors, along with actors, took part in an acting master class conducted at the Creative Production and Training Centre by American actress/educator/ director Cassandra Freeman.
"The focus was on acting, but it also dealt with how to direct the actors," Beckford said. "She (Freeman) does the acting master class as part of her job."
Beckford said Freeman, a fellow at Fordham University and lecturer at New York University's Tisch School of the Arts, has shown her films at a number of festivals. These include the prestigious Sundance Film Festival and Freeman has also facilitated a film-development project in Rwanda.
Curious about the dozens of scripts not among the 15 selected, I asked if they would be placed in a drawer somewhere and forgotten. Beckford assured me that would not be their fate.
"Some of the writers asked back for their scripts and will probably work on them," she said. "But all of them will be invited to participate in the film festival and they will get to attend the business meetings and to speak with experts in the industry. Most are coming from the US and Canada and we may have two others from the UK and the Caribbean."
The film projects being worked on for the film festival are in the categories short features, documentaries and narratives, and include two animation products. All the films are short – under 40 minutes – and their themes include drama, comedy and tragedy.
Beckford said the scripts were subject to analysis by stakeholders and the producers have been involved in discussions with various sponsors.
Writer/director Dahlia Harris, one of the entrants who got two projects accepted (the other is Chris Browne), told me "we the film-makers are still in need of funding and we urge the private sector to partner with us. We are willing to have them view the scripts and/or treatments to see how we can help to position their brands globally."
Beckford said production of the films entails content producers working with their technical peers. Each of the 15 projects calls for up to 30 people working with the producers on casting, location, editing, marketing, and more.
"I've been telling them I need your posters, I need the images that will go on your cover, I need to know how you will present yourselves," Beckford said, speaking very much like the publicist she was when working with Usain Bolt. (She has found that sports publicity and film publicity have much in common.)
Beckford insists that the business aspect of the festival is as important as the screenings and formal face-to-face business sessions will take place daily. Topics will include how to get into the market, what the film business is like now and what it will be, as well as packaging.
She insisted that there must also be discussion in the many markets now available to film-makers. "Back in the day, we only had big screen and television. Now we have Google, Urban TV, Netflix, Afro Stream, YouTube and more. Content producers everywhere in the world have greater opportunities now, but they will have to package it in a particular way to meet global demands," Beckford said.
Discussion on the music element of film is of vital importance, Beckford said. Tuff Gong has partnered with JAMPRO for the festival and there will be a Music Day on which the business of music and film will be discussed.
"We're expecting that the shooting and editing of the films will be completed by May, for the films have to be judged in June and put through the (post-production) process for premiering in July," Beckford told me.
Also in June, there will be the viewing of international films entered for the festival. So far, there have been 140 submissions.
Source: http://jamaica-gleaner.com/article/entertainment/20150410/ja-film-festival-gathers-momentum
Published Date: April 10th, 2015