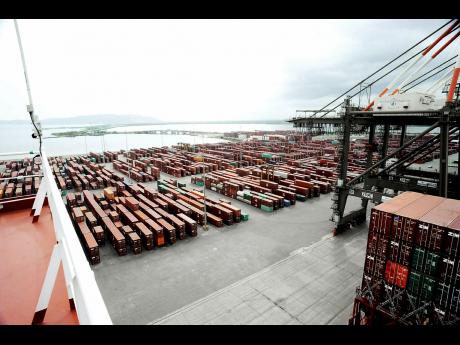 The consortium of French shipping group CMA CGM and its port terminals subsidiary, Terminal Link, has been selected for a long-term concession to finance, expand, operate and transfer Jamaica's main seaport, Kingston Container Terminal (KCT).
Prime Minister Portia Simpson Miller told lawmakers during her contribution to the Budget Debate on Tuesday that the Port Authority of Jamaica having concluded negotiations, Cabinet on Monday gave approval for the signing of the concession agreement with the consortium of CMA CGM and Terminal Link, the preferred bidder.
The official signing takes place on April 7, Simpson Miller said.
She said the agreement contemplates dredging, optimisation and expansion of KCT in two phases, the first phase of which will include dredging of the ship channel, turning basin and some berths to accommodate post-Panamax vessels.
Phase one also contemplates significant civil works to retrofit and deepen some areas of the berths, the prime minister said.
"It is important to note that this transaction does not require a government guarantee and is the first transaction that would be included in the contingency ceiling legislated in April 2014," Simpson Miller said during her contribution to the Budget Debate.
"This is a major development which will have significant benefits for the country's development and is an important component of the logistics hub," she added.
Terminal Link was among three entities prequalified by the Development Bank of Jamaica from as far back as October 2013 to take over the operation of KCT.
KCT is one of the region's leading container transshipment ports with a capacity of 2.8 million 20-foot equivalent units or TEUs.
Its equipment include 19 ship-to-shore gantry cranes, with four super post-Panamax cranes among them; 30 stevedoring chassis; 28 yard tractors; 30-yard trailers; two 4,000-horsepower tugboats, 73 straddle carriers, 24 trailer trains, four train tractors and nine forklifts.
Signed Agreement
Further development of the KCT is expected to facilitate the passage of post-Panamax container vessels with a nominal capacity of 12,000 TEUs in comparison to the existing Panamax vessels with a capacity of 4,500 TEUs currently transiting the Panama Canal.
CMA CGM already has a presence at KCT, having signed an agreement with the Jamaican Government in August 2011, which will see the company investing US$100 million to improve infrastructure and equipment, as well as employ 1,000 persons in exchange for a 35-year lease to set up a major hub there.
In 2013, China Merchant Holdings International, China's largest state-run ports operator, acquired a 49 per cent equity stake in Terminal Link for €400 million.
With a fleet of more than 400 vessels, Marseilles-based CMA CGM is the world's third largest container shipping company. Its subsidiary, Terminal Link, owns 15 container terminals in eight countries.
Source: http://jamaica-gleaner.com/article/business/20150325/cma-cgm-gets-concession-kct
Published Date: March 25th, 2015