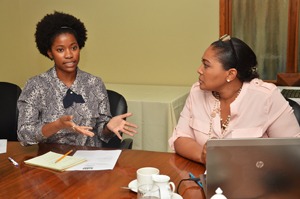 Rushell Ferarah, Research Fellow, National Competitiveness Council (left) speaks
at the Jamaica Spa Association stakeholders meeting as Marie Hall-Smith (right) looks on.
The newly incorporated Jamaica Spa Association, led by Mrs. Marie Hall-Smith of the Face Place, met on Friday, March 20, 2015 with key stakeholders in the wellness and certification sectors. The Association aims to develop and strengthen the local spa and wellness sector.
The Spa and Wellness Industry represents a billion dollar industry that is constantly expanding. As the demand for wellness services increases there must be standards and policies in place for Jamaica to capitalize on these opportunities.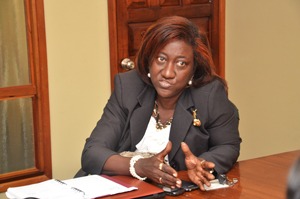 Sonia Morgan from the Jamaica National Agency for Accreditation speaks to
attendees regarding spas receiving accreditation
The Jamaica Spa Association is seeking to create these standards and become the key lobby group for the Spa Industry. The Association will aim to join the worlds of health and wellness while adhering to international quality standards in an effort to propel Jamaica as a premier destination for Health and Wellness.
JAMPRO, through the Jamaica Coalition of Service Industries JCSI Secretariat, secured the funding to support the process of incorporation for the Association and has been in discussions with donors to secure additional support for development of training programmes. Health and Wellness Tourism has been a target sector for JAMPRO as it seeks to increase the visibility of the sector for economic growth. The agency has committed to supporting the Jamaica Spa Association's development and predicts great results in the future.
The Spa Association is currently in their membership recruitment phase having finalized their board of directors and intends to officially launch in April.
Source: JAMPRO
Published Date: March 27th, 2015