KINGSTON, Jamaica – After participating in what is viewed as an innovative business development initiative, several hoteliers and suppliers have termed the second Tourism Linkages Speed Networking Event as a major success. The session was held at the Jamaica Pegasus Hotel yesterday (March 17), and was a follow-up to the larger inaugural speed networking event, which was held in Montego Bay on January 21.
The latest venture saw senior hotel managers meeting with representatives from some 40 supplier companies. Businesses offering a wide range of goods and services participated in the event, including suppliers of cosmetic and spa products, furniture, bedding, craft, toiletries and guest amenities, chemicals and cleaning products, food and beverage, meat and fresh produce and uniforms.
The session entailed a series of fifteen-minute meetings between Managing Directors, General Managers and CEOs of local companies which supply products and services and owners and Managers of properties who are in a position to make purchasing decisions.
Koen Hietbrink, General Manager of the Court Yard by Marriott hotel, which is currently under construction, had high praise for the event. "I think it's a fantastic initiative especially for us as a new company to meet suppliers and to see what they can do for us and what we can do for them, because it's about building relationships."
Mike Bauer, Company Director of Hotel Four Seasons said "it is well organized and it facilitates short discussions which work well for us. We have set up follow-up meetings to build relationships."
General Manager of Melia Jamaica Braco Village, Demitris Kosvogiannis noted that "I have gathered a lot of contacts. It is a good way for tourism to affect the wider economy and not just the visitor. I would like to see more of these initiatives and I look forward to enhancing these relationships."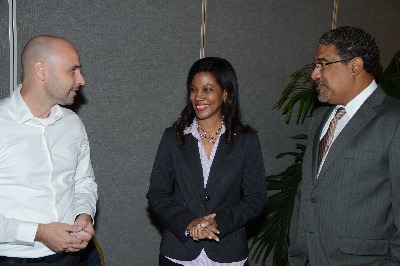 Speed Networking: Tourism and Entertainment Minister, the Hon. Dr. Wykeham McNeill (right), President of the Jamaica Hotel and Tourist Association (JHTA), Nicola Madden-Greig (centre), and General Manager of the Court Yard by Marriott hotel, Koen Hietbrink, discuss efforts to further deepen the linkages between tourism and other sectors such as manufacturing, agriculture and entertainment.
Suppliers also lauded the initiative. Chief Executive Officer of Boss Furniture, Omar Azan said "I think it is a positive for Jamaica and a positive for the tourism sector. When more farmers and manufacturers produce more for the tourism sector it creates more jobs. We currently have contracts with several hotels…to refurbish or provide new furniture. Jamaica needs this now more than ever to enable the producers to benefit from the sector."
Managing Director of Irie Rock Yaad Spa, Racquell Brown said "the response has been excellent, we are seeing real interest in our products and we have been able to set up follow-up meetings. We have to just build on the relationships to follow through."
In addressing participants during the opening exercise Minister of Tourism and Entertainment, the Hon. Dr. Wykeham McNeill, and President of the Jamaica Hotel and Tourist Association (JHTA), Nicola Madden-Greig, both underscored the importance of the programme.
The organization of the Speed Networking Event was spearheaded by the JHTA in collaboration with the Ministry of Tourism and Entertainment, the Jamaica Manufacturers' Association (JMA) and other key partners. These include the Rural Agricultural Development Authority (RADA), Jamaica Promotions Corporation (JAMPRO), and the Jamaica Business Development Corporation (JBDC).
Source: http://sflcn.com/jamaicas-second-tourism-linkages-speed-networking-event-dubbed-a-major-success/
Published Date: March 18th, 2015