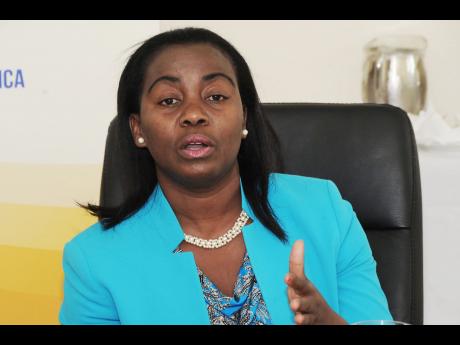 There is hope that there could be a resurgence of the once popular 807 Garment Industry, which was the premier activity when the Montego Bay Free Zone opened its door for the first time 30 years ago.
The free zone, which was established by the Port Authority of Jamaica (PAJ) in 1985, with the garment industry as its main focus, hit a snag in the 1990s when there was a downturn in the garment sectors and many companies closed their doors, citing high operational costs in Jamaica.
More than 20,000 garment sector jobs were lost islandwide between the 1990s and early 2000 when the garment factories began to fold. Approximately seven garment factories (three by the Hart Group of Companies) operated in the Montego Bay Free Zone at the time.
According to Gloria Henry, assistant vice-president of operations and customer relations at the Montego Bay Free Zone, one garment manufacturing company decided stay afloat, and after 25 years, is operating successfully.
"We still have a few operators in the Free Zone (non-ICT/BPO) which have weathered the storm over the years and have continued to serve other industries," Henry told last Thursday's Gleaner Editor's Forum, which was staged to look at the viability of the Free Zone after 30 years.
"We have one garment manufacturer that has been there for 25 years and they have managed to stay competitive because they serve a niche market."
The company, Daywind Manufac-turing Company, caters to the intimate apparel market, which includes manufacturing of lingerie. The company is operated by Kenute Woolery, who employs 146 persons at his plant inside the Free Zone.
Because of the changing face of the garment sector, Daywind Manufacturing Company's survival has not been without significant challenges and according to Henry, the PAJ and Free Zone principals have had to aid the company to remain in business, especially during the economic recession, which was at its peak in 2008.
"During the economic recession, we had to step in and offer them incentives, concessions, rebates to keep them here in Jamaica, to the point where they have rebounded and are serving countries in the Far East, the Unites States and Europe," Henry said.
Henry also indicated that the Montego Bay Free Zone is working with JAMPRO to spur a resurgence of the garment industry.
"We are working with JAMPRO as we speak to encourage our light manufacturing assembling industries," continued Henry. "… we have a company that does assembling in the Free Zone, they are a virtually integrated company, so they do assembling of components of the actual equipment and they offer technical support and customer service for the area that they serve."
Source: http://jamaica-gleaner.com/article/news/20150318/free-zone-could-rise-again-gloria-henry
Published Date: March 18th, 2015