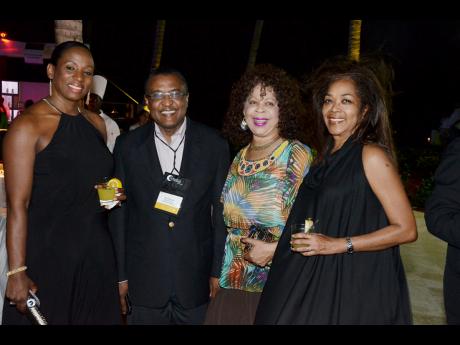 From left: Digicel's Joy Clark; Paul Pennicook, director of tourism; Montego Bay Convention Centre's Dittie Guise; and PICA's Jennifer McDonald.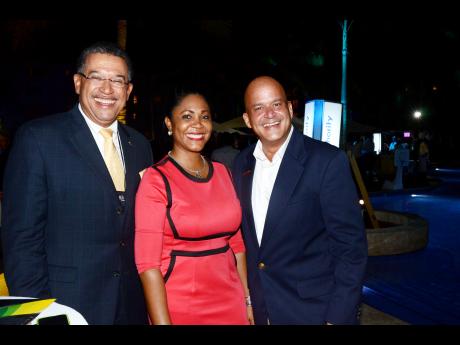 Hyatt Ziva and Zilara's general manager, Carl Hendriks (right); and his director of sales, Mureen James, share lens time with Cayman investor William Peguero Sr, president and CEO of Eagle Mount.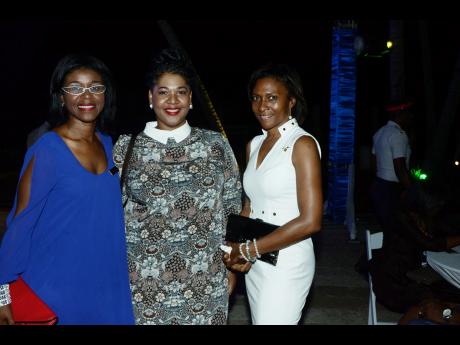 From Left: Tastey Blackman, manager, logistics and emerging sectors, JAMPRO; Kim Stiff, AVP Marketing Communications; and Samantha Charles, COO, Jamaica International Financial Services Authority.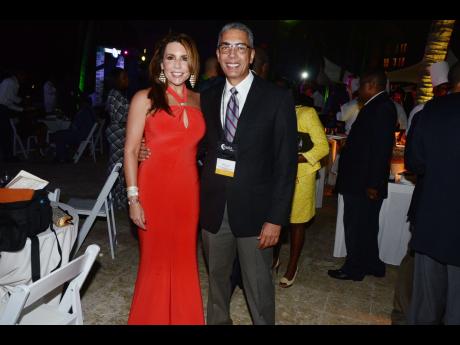 Barnett Estate Limited's Paula Kerr-Jarrett and president and CEO of Sagicor Bank Richard Byles share lens time at the opening cocktail reception for the Jamaica Investment Forum at the Hyatt Ziva in Montego Bay on Tuesday.
Hyatt Ziva and Hyatt Zilara opened their beachfront poolside area for delegates attending JAMPRO's Jamaica Investment Forum (JIF), and they did so with panache.
On Tuesday, the team, led by General Manager Carl Hendricks, were the perfect hosts for the close to 200 persons who turned out for the opening cocktail reception of Jamaica's premier international investment and business event.
Designed for prospective investors and business executives looking for the next big thing, the Montego Bay resort, once home to the Ritz Carlton Rose Hall, was the ideal setting of what can happen when good money is pumped into a good prospect.
Ready For Business
Sponsored by the Port Authority of Jamaica, the organisation's vice-president and the woman in charge of the Montego Freezone, Gloria Henry, welcomed the delegates to Jamaica, even while reiterating the sentences that have become renowned among those who speak from the Ministry of Industry, Investment and Commerce: "Jamaica is ready for business, with its strategic access and proximity. The country is one of the fastest-growing business process outsourcing centres because we are the place to do business."
Henry's comments were complemented by Prime Minister Portia Simpson Miller, who said over the two-day conference that Jamaica would be showcasing a range of investment opportunities for consideration and mutual benefit for prospective investors.
"We will convince you that Jamaica is an ideal location to invest and to establish business for the long term," she promised.
Simpson Miller boasted that as a vote of confidence, the Inter-American Development Bank, the World Bank and the International Monetary Fund had come on as sponsors of the forum.
Source: http://jamaica-gleaner.com/article/social/20150313/investment-forum-cocktails
Published Date: March 13th, 2015