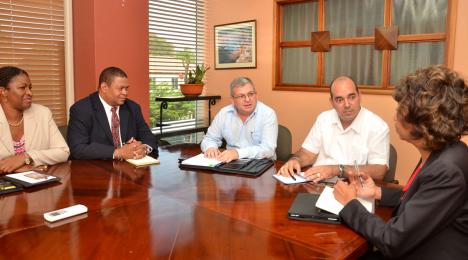 Bernardo Guanche Hernandez, Ambassador of Cuba (centre) and Rigoberto Zarza Ross, second secretary in charge of consular affairs (centre right) speak to JAMPRO representatives Diane Edwards , president (right) , Berletta Henlon Forrester, manager of market development (left) and Robert Scott , vice president of export and market development (second left) at a meeting held at JAMPRO's headquarters in Kingston Jamaica. JAMPRO plans to intensify its focus on the Cuban market this year.
KINGSTON, Jamaica — Jamaica Promotions Corporation (JAMPRO) is strengthening its efforts to target the Cuban market for export through its Caribbean and Latin American market development strategy. The agency officially started its programme this year with the 'Exporting to Cuba' workshop on Wednesday.

A part of JAMPRO's plan to develop export markets in the region, the forum built awareness of the Cuban market and the opportunities for Jamaican companies to increase trade with the country. It empowered over 80 participants with knowledge on doing business with Cuba as that market continues to unlock its barriers to trade. The agency also shared its plans to lead trade missions, market visits and Jamaican companies to Cuban and Latin American trade shows to increase the presence of Jamaican products in these regional markets.

The agency led a Jamaican delegation to the Feria Internacional de la Habana (FIHAV) Trade Show in Havana last year and facilitated an incoming trade mission to Jamaica in July 2014 and a market visit in September 2014. JAMPRO connected Jamaican and Cuban businesses and cemented relationships with Cuban government representatives, which is crucial to entering that market.

These initiatives have proven fruitful and some Jamaican businesses have been able to enter the market successfully. Agricultural chemicals and fertilisers, along with some food items are the most exported Jamaican products to the Cuban market; other companies are continuously engaged with Cuban authorities to create a trading relationship that can benefit their business.

As the United States and Cuba seek to repair their relationship, JAMPRO acknowledged the potential effect this can have on Jamaica. However, manager of market development at JAMPRO, Berletta Henlon Forrester sees a light of opportunity for Jamaica's manufacturing and services sectors.

"Cuba's demand for goods will increase and Jamaica stands to benefit from this demand. This also means more foreign exchange will be available to Cuban businesses, which will allow a more seamless process for paying for the goods and services needed; this is still a major barrier to exporting goods to Cuba," she said.

President of JAMPRO, Diane Edwards, has been meeting with Cuban authorities to develop solutions that would encourage more trade between both countries. Due to Jamaica and Cuba's close geographical location and long-term relationship, Edwards believes that Jamaica will be able to benefit from Cuba's opening market.

"Jamaica and Cuba have been working together for decades as partners in various initiatives, JAMPRO will be looking at how we can take that a step further in 2015 and develop our trading relationship with Cuba to provide another market for high-quality Jamaican products; we will be rolling out the Cuban market development programme for the next six months," she said.

JAMPRO will continue its Cuban market penetration programme in 2015 and aggressively pursue opportunities for export of high quality Jamaican products. The agency looks forward to bringing more Jamaican products to this lucrative market.
Source: http://www.caribbeannewsnow.com/headline-Jamaica-intensifies-targeting-of-Cuban-market-24682.html
Published Date: February 5th, 2015