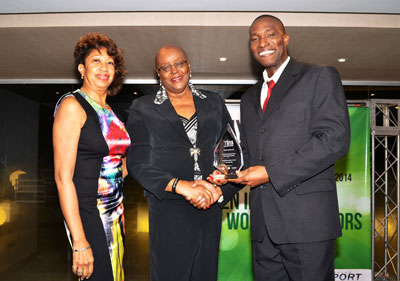 Ronald Theodore, Vice-president of Promotion and Marketing at CAIPA, presents
Manpower and Maintenance Services' CEO Audrey Hinchcliffe (centre) with her award
for her contribution to Jamaica's socio-economic development through investment.
Looking on is Diane Edwards, President of JAMPRO
The Caribbean Association of Investment Promotion Agencies (CAIPA) and the Caribbean Export Development Agency (CEDA) recently awarded Audrey Hinchcliffe, CEO and founder of Manpower and Maintenance Services Limited, for her contribution to Jamaica's socio-economic development through investment.
The award was given at the Regional Investor of the Year Award Ceremony held in Santo Domingo, Dominican Republic, recently. Hinchcliffe was nominated for the Special Award for Women Investors by Jamaica Promotions Corporation (JAMPRO). Based on her outstanding contribution to the Jamaican economy and her philanthropic efforts, she was recognised by CEDA and CAIPA as an outstanding female entrepreneur.
"I feel honoured by JAMPRO's nomination for the Regional Investor of the Year Award – Woman Investor Category. As a businesswoman, I have demonstrated a proven record of contribution to the socio-economic development of Jamaica and, by extension, the region," she said. "I want to congratulate CAIPA and the Caribbean Export Development Agency for sponsoring this annual award, and having won, I will continue to represent JAMPRO as it seeks to promote investments."
CAIPA is the only association of investment promotion agencies in the Caribbean region. The body focuses on promoting foreign direct investment into the Caribbean and supporting regional investment promotion agencies by providing technical and financial assistance, as well as training and promotional support.
Re-election
Having completed a successful two-year period as first vice-president of CAIPA, JAMPRO was also recently re-elected to the position. CAIPA has consistently facilitated JAMPRO programmes that seek to market Jamaica on a global scale for the investment. Speaking of JAMPRO's re-election, JAMPRO President Diane Edwards noted, "Jamaica has much to gain from positioning the Caribbean region as a dynamic business location.
"The Caribbean has done a great job of promoting a tourism image globally, but we need to develop a collective focus on marketing the region as a viable destination for business," she said. "Working with CAIPA, we can stimulate a change in perception in the local, regional, and international private sectors, that the Caribbean is more than a beach, we offer world-class opportunities for business."
JAMPRO will continue to strengthen Jamaica's business brand in the region and across the globe by working with various partners and participating in key activities to bring Jamaican business opportunities to the world. The agency will work with CAIPA to improve targeting of investors in specific sectors and to implement best-practice methods to promote the Caribbean for investment.
Source: The Jamaica Gleaner
Published Date: December 29th, 2014