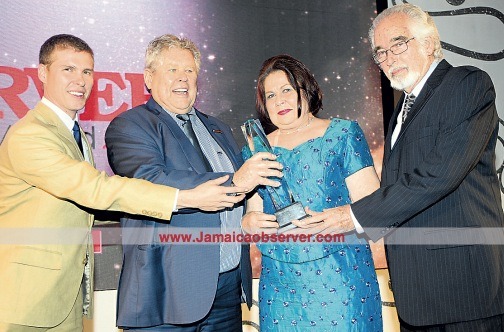 Jamaica Observer Chairman Gordon 'Butch' Stewart (second left) and Deputy Chairman and CEO Adam Stewart (left) present award the 2013 Observer Business Leaders Stafford and Marilyn Burrowes, operators of Dolphin Cove in Ocho Rios, St Ann.
MOSES Jackson and his team need to congratulated all over again for another highly successful Jamaica Observer Business Leader Awards.
This year the winners are the husband-and-wife team of Stafford and Marilyn Burrowes, operators of the much-heralded Dolphin Cove attraction in Ocho Rios, St Ann. I could not have said it better than chairman of Jampro, Milton Samuda, when he wrote: "The proceedings were as inspiring as last year when Jampro was itself a proud nominee. I, therefore, felt compelled to write, in congratulatory frame, to acknowledge the fact that Jampro views this unrivalled awards programme as a great partner in our effort to promote entrepreneurship and investment among Jamaicans."
There is a lot that is wrong with Jamaica, but there are also some very energised pockets of business activity that, if properly bottled and sold to our small business sector, may position many of them in that sector to be part of the serious engine of growth over the next decade.
For 18 years, Moses Jackson, a financial journalist, and his team have made the Jamaica Observer Business Leader Awards into the premier programme that recognises excellence in business. Additionally, because successful business operators are also human, it is only fitting that those nominated and those who make it to the top be singled out, not just for the vigour of their entrepreneurial clout, but as a beacon for new start-ups who would like to emulate them and strut their way up to the podium in triumph.
I am particularly drawn to one pairing of nominees this year – the mother and son team of Carol and Christopher Clarke, operators of the Kremi brand of ice cream. Carol Clarke is the operator of the excellent Devon House ice cream and, over 10 years ago, I wrote a piece in the Observer in which I classified it as better than many of the well-known overseas ice cream brands being sold locally.
That slipped under the radar until sometime in last year when National Geographic Traveler rated it number four on the list as Top 10 places to eat ice cream. Many times it takes an outsider to tell us what we already know to give our products that final stamp of approval.
Milton Samuda of Jampro reminded us that Jamaica had the Caribbean's highest ranking on the ease of doing business scale, making a huge jump from 85 last year to 58 in the present rating. Something good is happening and, with the bad, it is only fair that we congratulate the respective ministry in this PNP Administration that has made this happen, along with the technocrats who designed the programmes which brought about the welcome change.
This is certainly not the time to let things slip back to where they were.
Another great bit of news as given by Milton Samuda is that foreign direct investment (FDI) moved from US$362 million in 2012 to US$500 million last year. Even more important, that move created 6,000 jobs. Although this country has a far way to go to bring about the sort of business activity needed to create the additional jobs that are so badly needed, it is a welcome start.
Of course, we also need to make the whole business experience safer. Employees and employers need to know that their proximate and national spaces are safe. More importantly, FDI will only move by the sorts of huge leaps when the overseas investor is assured of his safety.
According to Samuda: "I therefore applaud the Observer's celebration of entrepreneurial efficiency; productivity and profitability, and assert that Jamaica must not be afraid to vigorously promote the creating of wealth, the making of robust profits, and the increasing of savings and personal investment."
There is a troubling percentage of our people who still believe that something is wrong with celebrating wealth. Too many of them are only aware of the crass opulence displayed by the 'Johnny-come-latelys' and need to see that there is a connection between, say, what a company like Mayberry has done and is still doing, what Stafford and Marilyn Burrowes have done at Dolphin Cove, and not see it as alien to their lives.
This, of course, would mean that maybe, at another level, an entity needs to emulate the Observer Business Awards, but place it at a level closer to the man at street level at which place he will see his possibility to the top.
Again, congrats Moses Jackson and team members, you have done a fine piece of work again. Congrats, nominees.
And who knows, it may be time for me to take a closer look at what Minister of Industry, Investment and Commerce Anthony Hylton is doing. Apparently the quiet work has begun to pay off. It may not be a deluge, but it's a step in the right direction.
—Mark Wignall, The Jamaica Observer
Source: http://www.jamaicaobserver.com/columns/Encouraging-signs-in-the-Jamaican-business-community_18088189
Published Date: December 11th, 2014